What is On-Page Optimization?
For any SEO campaign, the first step is on-page optimization. As the name implies, it is the process of going through each page and making sure they don't have any dead links, and alt tags for images, and h1 tags, and many other necessary SEO basics. You can think of on-page optimization like the foundation of a house. It is vitally important to make sure the foundation is strong so that the rest of the house is strong. At OnlyOnlineMarketing.com, we have access to our own site audit software that helps the process by automatically identifying all needed on-page optimization steps so that Google views your site as fully optimized. This in turn can help your search engine rankings. Need help with your SEO? Contact us today and we can help your site rank in Google!
Check Us Out: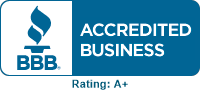 We are BBB accredited and "A+" rated!
Check our BBB Rating by clicking above!